Back to main page

SPLC Frequently Asked Questions

What is SpaceX Patch List Collectors?

SpaceX Patch List Collectors (SPLC) are collectors of SpaceX themed patches. You can essentially discover what we collect at spacexpatchlist.space. We have no affiliation at all to the SpaceX company themselves, we're just not that lucky. We are collectors who like patches and recognize that others also like them too. We often meet our fellow collectors on eBay, competing hard for that elusive patch. But, because we have families to pay and mortgages to feed, sometimes we have to wave goodbye to what we want. eBay serves a purpose, but if you saw the cars that we drive, you'd know we don't do capitalism very well. We just can't afford to keep up with the sweet cadence of SpaceX launches and the resultant patches being sold at high prices. The market itself has created us. SPLC is our response to the problem.

What Do We Do?

To throw a sock in the general direction of solving the supply and demand problem, SPLC is seeking out patches for our members and offering them at cost price, plus shipping and handling. We have a commercial mailer that will ship nationally and internationally for an amount we think is fair. SPLC has created what we hope is an on-going supply chain with those who create and distribute the patches, then we step in as the non-profit middle persons who then get the patches out to the real collectors. We aren't like the other patch selling websites because we are actively trying to avoid profiting.

How Do We Do It?

We Order. We Receive. We Announce. You Say "Yes Please".

That's pretty much it.. there's lots of communications with people and behind the scenes things of course. This website is the pointy end where you see the product and register your interest. If we can fulfill your desire to own a patch, (because we still have one left!), then it'll be offered to you.

Each time a new patch shipment arrives at our distributor we'll get a count and then list them for sale. Emails and Tweets go out, people log into the site and indicate they want to own the patches. From then on it's a numbers game. If we have just twenty patches available and one hundred people are interested, 80% of people will miss out. But twenty collectors will get a patch for less than $20, (including US based shipping), that would have cost them $80 on eBay. We would have just saved our members $1,200 in total. If you can get a single patch from this site, you have won and justified your joining. We will work to ensure that everyone wins once, eventually. The golden rule here is that only one of each patch can go to a person. You can't order multiples of the non-public hard-to-get patches. Not even our founders are allowed to. We won't be part of the problem. You can, (and should), combine shipping on several ordered unique patches of course. The rare cases that multiples are possible is when we offer patches from artists and high quality reproductions where there isn't a scarcity and it makes sense to have more than one. An example of this is the Starship SN5 150m Hop patch, sending multiples to SpaceX employees to share is something we are thrilled to do. Similarly, providing multiple Starlink quality reproductions helps those collectors who wish to have one per mission.

Why Should I Join?

You're joining because you want reasonable access to SpaceX related patches. You're joining because we can provide you, being an authentic patch collector, a patch (e.g. SpaceX Dragon Parachute) at $10.50 which is being sold on eBay at $204. You are like us and want to have the chance to own the patches, but can't continuously afford to bid on them.

Why Pay $1?

In America we have capitalism. People want to get things cheap and sell for more than they paid. Our niave way of solving the core problem of this patch up-sell is to sign members up and have them pay $1 by Paypal. Why do we do this? It's easy to go out and create ten email accounts and try to game sites like this. But Paypal doesn't like it when you have multiple accounts, We've witnessed first hand how strict they can be about ensuring your identity and uniqueness. The $1 is refundable at any time, all it does is to register you to us as real person. If we later spot members profiting by on-selling patches that we supplied for low cost, we'll limit your SPLC account. You won't be offered any more third party patches in future. We really are about getting as many cheap patches to as many collectors as we can. In that vein, we won't sell patches to eBay sellers who already up-sell those patches. They already get them at cost. But we will happily sell them one of our patch creations if they wish to collect them.

What's In It For SPLC?

Patches!!! Seriosuly, patches. Do the math, if you chase up to five unique patch designs per launch (i.e. Iridium launches) and pay $50 to $150 for some of those patches, you're going to be spending a lot of your income for every SpaceX launch. We are also required to buy our own patches from this site, we pay exactly the same costs that you pay. Where our payback is if we save $80 on the eBay markup; that money can stay with us and help us feed and clothe our children.

By doing this approach we have reached out to wonderful people that create the patches. They have appreciated the underlying issues that we're trying to solve and agreed to work with us to get their originally low cost patches out to the people who will value them and display them proudly on their walls and clothing. Our sole benefit from SPLC is for our efforts we're guaranteed one patch each from a shipment, if we need it. If we already own a patch we'll Decline it on the site and opt-out so that one more collector can get a patch instead. This already happens and someone out there now owns patches that we opted out of.

Explain The Money Flow

SPLC is an unofficial non-profit project. We will buy patches at a price, pay to have them collected and shipped to us and then list them for our cost price, rounded up to the next dollar. Then it's a set cost for handling and postage, as required by our commercial shipper. Once a batch of patches are fully sold via the site the costs are paid back from the revenue and what ever is left over then goes to worthy causes that we support. Currently those are the USAF Cape Museum at Cape Canaveral, the Thrift Shop at Vandenberg AFB and also the ECSID School District in Texas. We will list those donation amounts and Paypal transaction IDs each time so members (and current and future suppliers) can validate our approach. Website setup and running costs will be amortized over a few batches so we can always donate something each time. So if you buy from us, you get a cost price product, you pay what we are charged to ship it, and any left over amount then gets given to charity.

We will occasionally release our own fan-created patches and likely sell those for around $10, creating a few extra dollars per patch than normal. That will lead to higher charity donations. We're fine with that. Our end goal is to end up with $0 at tax time, we don't need any extra IRS complexity. We really want to fail at capitalism.

What Do You Expect Of Me?

If you are signing up to SPLC, you're in it to collect patches. You're not here to get cheap patches to resell at a premium. Our members are in a similar situation to us where the always increasing prices make it non-viable to keep collecting. We're here to help fix that. What SPLC wants from you is to leverage our at-cost selling to fill the holes in your collection. If we see members reselling patches they bought from us, we won't want them as a full member any more. This includes getting a cheap patch from us, and then selling your previous one(s) at a profit. Don't buy our cheap patches to then disadvantage others. Your SPLC account will be switched to Restricted Membership where only patches we produce are available. You won't be offered any more third party patches from us and they won't appear as an option on your patch table. So please don't take advantage of our attempts to bring fairness to the collection of these patches.

By registering with SPLC you agree to keep your patches for personal use only and not be the vehicle for them to be resold at a profit.

What About Safety?

We will be using USPS First Class Domestic and International, always with tracking included. For domestic shipments, that's door to door tracking for approx $8. It'll arrive in three to five days on average. For international shipping the tracking might end at the U.S. border, appear at your country's Customs inspection point and some time later your patch arrives. Basically not every foreign post office feeds back the full step-by-step tracking information to USPS. But for us, it's how we prove to Paypal that something got sent out from the commercial mailing company we employ. That protects us.

Paypal protects you as well, it's the exclusive payment system we use. If you don't have Paypal, you can't be a SPLC member. We use it so that we don't need any credit card information etc. All the purchasing information from Paypal gets emailed to our gmail account so nothing tangible ever lives on the SPLC website. We log in and make the site reflect the current status and drop in the tracking information when we know it. The website is not the source of truth, our Paypal ledger is.

There is no web bug tracking at all on the site, we also only include off-site web content when you're about to use the other site, i.e. when we're about to send you to Paypal we finally include their required content on the Buy Patch page so they won't snoop on you until you're going to go there anyway.

If you have any further concerns, please ask us and we'll think about it and likely update this document as well.

I Need Help. How Do I Reach You?

For any and all communications, please email splcollectors@gmail.com. We will then work with you to solve any site, payment or shipping issues. There's also a Feedback button on the patch table, let us know what you like about the site etc.

Can You Help Me Find Patch X?

Yes, try the Where To Buy section at the bottom of http://spacexpatchlist.space and then also try https://ebay.com/.

I've Signed Up, Now What?

Once you register with the site, that enables us to manually create the account and send you your SPLC site login details.

We need a shipping address so we can calculate your shipping costs. As at Jan 2019 the current normal shipping costs for US domestic is USD$9 and International is approx USD$24, depending on destination country. That gets you tracking from door to door. It's per shipment, so if you order five patches to a US address, the shipping costs $1.70 per patch. If you're overseas, you already know shipping costs a lot. Due to our nexus location, residents of Florida (i.e. shipping addresses in-state) will also be subject to the 6% state Sales Tax and the County Sales Tax. Your total price (we have to tax the shipping too) will be shown with full itemization.

SPLC will decide on your username and password so that it'll never re-use one of your current passwords. When you have your credentials you can log into the website. Expect a day or so delay at this stage for the manual processing. We have day jobs.

How Do I Use The Site?

Inside the website you will be shown the patches we provide and the simple decisions you can make on each one.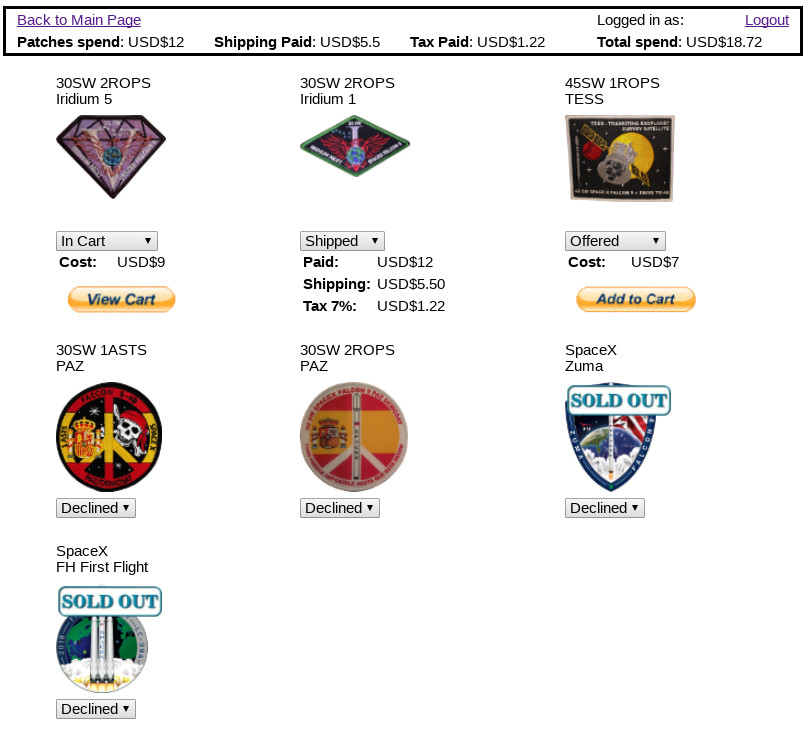 Initially a patch will be "Choose", so you need to decide if the patch is "Wanted" or "Declined". That tells us how many people want them. Declining is useful for us to know as it's not a "maybe".

Some patches are plentiful and instantly available to add to your cart. If you see the "rocket cart"

on a patch, that means we have lots and you can just buy it. For the others that are in short supply we'll manually go through and "Offer" the patches to those that we can. From there you add them to your cart and buy them via Paypal. Once the transaction is verified, the status will say "Paid".

You'll need to have given us a full shipping address to ship to. If we don't have it we'll follow up with you via email. If you haven't provided a new shipping address each time, we'll re-use your address on file.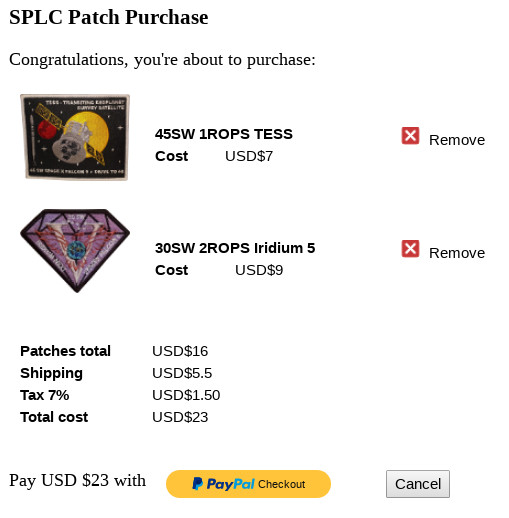 When we send the shipping details to our maling company, we'll set it to "Shipped" and when available provide you the tracking details. The invoice will then show the tracking number and you can click on it to follow the progress of the parcel.

If an emergency arises, you could choose "Refund" up until we send the shipping information and the transaction will be cancelled. We'll click the Paypal button to refund you the full amount paid to us, (Paypal may still charge a few cents as a fee). Your patch will then be forfeited and offered to the next collector in line. Your status won't be affected by requesting a refund, unless you do five refunds in a row etc.

When you pay, your spend will be shown against that patch indefinitely. Your account will have a total shown to tell you how much you've spent over time with us.

All the above steps just document the requesting, selling and shipping process. It's what you would usually expect when online buying, the difference being you may have to be allocated a patch by SPLC before it's yours.

Back to main page